Madison Ave. Collective
est. 2008
Understanding accessibility
Designing a website that's "accessible" means you're providing an equivalent experience for all users, regardless of the physical ability an individual user may or may not have. The World Wide Web Consortium (W3C) puts it this way: "Accessibility means that people with disabilities can perceive, understand, navigate, and interact" with your website without barriers.
Who is the W3C? They're an international non-governmental association that develops technical specifications for HTML and CSS, as well as recommendations and best practices for security, online payments, and accessibility. The W3C's international gold standard for website accessibility rules is called the Web Content Accessibility Guidelines (WCAG).
What federal law says
Section 508 of The Rehabilitation Act, first adopted in 1973 and amended by Congress in 1998, requires federal agencies to make their electronic information accessible to people with disabilities. The rules were originally established in the fairly early days of the Internet, but Section 508 was modernized in 2017 to align with WCAG.
What this means in practical terms is, adhering to Section 508 for website development is synonymous with WCAG compliance. And while these standards are merely best-practice "recommendations" according to the W3C, for all U.S. government agencies — as well as for businesses and organizations that receive federal funding — these accessibility standards are requirements under Section 508.
What's the difference between ADA and Section 508?
The Americans with Disabilities Act (ADA), which became law in 1990, requires state and local governments, businesses, nonprofit organizations, and labor unions make "reasonable accommodations" for employees with disabilities. ADA is a broad law against disability discrimination that applies to agencies and organizations with 15 or more employees. While it doesn't go into technical details about website development, Section 508, on the other hand, essentially tells employers how to comply with ADA. How so? By following the WCAG.
In addition to ADA and Section 508, there are other federal laws that touch on the subjects of website development and access to electronic information. The Connected Government Act of 2018, for example, requires all new and redesigned federal agency websites to be accessible using mobile devices.
What state law says
Oregon's Department of Administrative Services has developed a set of guidelines for usability and accessibility for state agency websites. Effective March 2017, all agency websites must:
Follow WCAG accessibility standards
Follow a mobile-first content strategy
Follow state law on using plain language (no "agency speak", and nothing higher than eighth-grade writing level)
Use HTML pages instead of PDFs, with limited exceptions
Use a default body text size of at least 12 point, and preferably 14 point
Include the Oregon.gov logo on every page
WCAG accessibility checklist
The Web Content Accessibility Guidelines (WCAG) are separated into three levels of conformance. These roughly translate into "basic stuff" (level A), "essential stuff" (level AA), and "shootin' for the moon stuff" (level AAA). The W3C acknowledges that AAA may be impossible to achieve, so for the most part we've only included rules from the first two levels here. Also, for the sake of brevity — and to prevent eyes from going crossed — we've omitted highly technical and fine point recommendations. (If you care to dig deeper into the geeky details, W3C has more than 1,100 technical specs.)
Here's our quick reference checklist for developing a website that conforms to WCAG and Section 508 standards.
1. Provide text alternatives for non-text content
Captions are provided for video
Transcripts are provided for podcasts and other audio-based content
Alt tags are used to describe images, or set to null (i.e. alt=" ") when decorative images should be ignored by assistive technology
Labels are used for buttons and form elements
With the exception of logos, text is not placed within images
2. Make page layout and content adaptable
CSS is used to control visual presentation of content
The structure and relationships between elements are consistent on various screen sizes
Content is presented in a correct, meaningful reading sequence on both desktop and mobile devices
Content reflows without the use of both horizontal and vertical scrolling
3. Use color appropriately
Body copy has a contrast ratio of at least 4.5:1 with the surrounding area
Headlines and large text have a contrast ratio of at least 3:1 with the surrounding area
Information conveyed using color is also available in text
4. Make text readable
CSS is used to control the visual presentation of text
Spacing between lines of text (known as line spacing, line height, or leading) is at least 1.5 times the font size
Spacing between paragraphs is at least 2 times the font size
Spacing between letters (known as letter spacing or tracking) is at least 0.12 times the font size
5. Provide keyboard and user controls
Allow ability to pause, stop, or hide any moving, blinking, or scrolling information
Allow ability to pause or stop audio
Allow ability to resize text — up to 200% — either with on-screen controls or through a web browser's zoom function
If content is presented on hover, provide ability to dismiss/hide the content
Tab order (in forms, for example) is correctly set
6. Avoid negative physical reactions (seizures)
Nothing on the website flashes more than three times per second
7. Use page titles
For HTML pages, the Title tag is used to describe each page's topic or purpose
For PDFs, the document Title is used
8. Make the website easy to navigate
The user's location is always visible within a set of pages. For example, this could be achieved with an indicator on a navigation bar (highlighting the active page), a breadcrumb trail, or by providing page numbers in a PDF.
At least two ways are provided to locate each page within a website. For example, in addition to a standard navigation bar this could include a site map, a list of page links on the homepage, or a search box. An exception to this rule is for pages which are part of a step or process, e.g. a multi-page survey or shopping cart checkout.
When navigational mechanisms are repeated on multiple pages (i.e. within a navigation bar), menu items display in the same order each time they are repeated.
Link text describes the purpose of the link, including anchor links that jump within a page. (In other words, don't use "click here.")
While accessible website design isn't rocket surgery, it does require an approach to planning that starts at the very beginning. Done right, accessibility is woven into all phases and stages of website development: content strategy and information architecture, user experience and visual design, and programming.
Need help implementing these accessibility standards for your website? Contact Logan Hoffman at logan@madcollective.com or call 541.971.4113 ext. 711.

This article is also published on Medium.
It's one thing to deliver an excellent student experience on campus; quite another to build an excellent website. Between us and one of our long-term clients, Colleges of Distinction, we've evaluated a countless number of college and university websites — the good, the bad, and everything in between.
In this article we'd like to share some of what we've learned, so that you can help your own higher ed website achieve excellence.
Got challenges? You're not alone
Let's start with some of the most common issues we've seen in higher ed websites. Does any of this sound familiar?
No message. Many university websites lack a strong brand story. Also, they're not sending targeted messages to defined audiences, prompting them to take specific actions.
No differentiation. What makes you different from other institutions? Whether or not you can articulate it internally, we've noticed many schools aren't communicating it clearly online.
Internal focus. It's easy to get so absorbed in the internal workings of your administration, faculty, and staff that you lose sight of what new students or donors need from your website.
Lots of sub-brands. Do you have a different microsite for each department? The ensuing chaos makes brand consistency a far-off dream — and maintaining the various logos, page templates, and back-end technologies is hard work. More importantly, an inconsistent experience for prospective students, donors, and other users can be jarring and off-putting.
Content clutter. Is your website a recruitment tool? an enrollment driver? a resource for students and faculty? … or is it a repository of all the information you've ever used, most of it out of date?
Best practices, to the rescue!
For every challenge, there's a best practice to resolve it. Let's look at a few of the most helpful rules we've noted from our experience.
Think strategically. A strategy is four things: a problem, a goal, a plan, and a result. Where is your website falling short? Where do you want it to be? Answer that, and you can plan a path to action.
Think like a user. Is the hierarchy of info logical? Are pages organized to meet the user's most pressing needs first? Have you mapped the paths that users take and built a coherent journey?
Make action easy. Every call to action should be clear and convincing, and the conversion points — the places where users take those actions —should be easy to find and respond to.
Cross all those Ts. Every area of your website should be an extension of your brand. The design should be mobile-responsive, accessible from any device. It also needs to be ADA-compliant.
Establish metrics. Without a way to measure success, who's to say if your efforts are paying off? We know it can be tricky to identify objective markers — but it can be done, and it's essential.
Move forward the smart way
When it comes to choosing an agency, there are two options: the conventional route, and the streamlined route.
The conventional route goes like this. You write a lengthy, time-consuming RFP, and post it publicly to invite responses from all corners of the country. The RFP (request for proposal) may or may not provide candidates with the type or quality of information they need to write a meaningful proposal, resulting in hundreds of written pages based on their best guesswork, which your selection committee takes weeks to carefully comb through. After holding a series of interviews, you make a choice, and at last your new creative partner starts work. The process was costly, imprecise, and effort-intensive — and hey, it only took six months to get to the starting line.
The streamlined route works through relationship-building, and as such, it's much more targeted and timely. You develop a list of parameters you want your partner agency to match (specific areas of expertise, years of experience, etc.), seek referrals, and do some research on your own. You then put out an RFQ (request for quotation), which is shorter and easier to evaluate than RFPs to a limited pool of pre-qualified or pre-selected firms. Once you have narrowed your list of candidates based on the RFQ responses, you pick up the phone or meet in person to discuss what you hope to achieve. The information and insights that emerge from these conversations are more likely to fit your needs and propel you forward. At the end of the day, you're launching your new website much sooner — and spending less money and energy—than with the traditional RFP process.
How to choose the right partner?
Scan for strategy. Many creative professionals make beautiful work — but the point isn't just to look pretty. It's to accomplish the goals of your organization and meet the needs of your stakeholders. How do your candidates propose to do so? Do they have a proven process for delivering results?
Invest in discovery. Your partner should talk to internal and external stakeholders, perform a brand audit and competitive analysis, and research your history, values, goals, and competitors. Up-front research is the necessary foundation for getting started and will guide decision-making throughout the project.
Avoid death by committee. When collecting initial input, ask everyone. Make sure key stakeholders and representatives from every target audience have an opportunity to be heard. But when making decisions, establish a small, tight-knit team with the judgement to weigh conflicting perspectives and make the call.
Be bold. Today's degree-seekers aren't looking for the same old / same old. Don't be afraid to look and sound different. We know standing out can be scary — but when you do, great things can happen.
The tips above may seem simple, but make no mistake: they're game changers. After researching and auditing countless higher ed websites, we've seen these principles bear out over long and close observation. We hope they help you achieve excellence in your website, too.
This article is also published on Medium.
Icons often get overlooked. This is probably because their job is a thankless one: Enhance the content without being too distracting. After all, your audience wants to be able to get information as quickly as possible and an overly-complex and beautifully detailed illustration can often distract rather than help. When it comes to icons, they tend to discreetly enhance a layout rather than be the belle of the ball.
(Not sure what the difference between an icon and illustration is? Check out our article.)
So why should you use icons?
Icons are a functional and important part of any marketing piece or website. Being functional doesn't mean they can't be beautiful, but icons need to remain simple and, most importantly, clear. Icons are used to quickly draw attention, clarify copy, or point a customer to a certain action or goal.
Icons are also a great way to save on space, particularly for mobile devices where space is at a premium. Think about crazy-long navigation menus. Not great for cramming onto a mobile screen, right? To circumvent this issue, UI and UX designers rely on the beloved "hamburger" menu (three lines stacked on top of each other). Tap the simple three-bar icon and it reveals the navigation menu that, without the collapsible menu, would have cluttered the screen. The adoption of this icon initially grew from the necessity of needing space on mobile and has since found its way onto larger desktop screens (a practice that is widely debated by UX experts to this day).
Same idea with the good ol' "search" icon. Rather than have a box that says "search," which is perfectly acceptable for the large real-estate of a desktop screen, a simple magnifying glass works for mobile and is a widely understood space-saver.
But don't forget, if you can say something simply with words, maybe an icon isn't needed. Yes, they can be very useful, but when used inappropriately they can cause visual noise. Don't put icons on a page just to have icons. Make sure they have a purpose.
So when should you use icons?
First, think about what your icon is being used for. An icon can take many different forms: Is it an icon supporting an important piece of content? A social media icon? An icon that is universally understood? An icon calling for an action, such as "play" or "refresh?" Is it a Favicon (those handy little icons you'll see on the tab associated with your website in your browser window)? Each icon needs to be treated differently depending on its purpose.
Icons that support copy
Let's say you have a brochure with a lot of copy. It's a marketing piece that explains the exciting breakthroughs your company has been involved in. Problem is, the customer is confronted by a big wall of text. That's not very exciting or interesting.
Icons can be a great way to break up large amounts of text while giving the reader insight as to what they will learn before diving in. In cases like this, icons can be a little more detailed than, say, an icon that is trying to quickly direct you to an action (more on that below).
For example, if a customer sees an icon of a briefcase on your site, they will likely assume it is indicating something about "business" or "work." Based on common icon conventions, it is quickly understood and there was no need to waste a bunch of verbiage to get the point across. If, however, the icon is supporting a complex idea put forth in the text, it may need another level of detail. This could be a briefcase on top of a globe with a heart over it. Unlike the simple briefcase icon, its purpose is not quite as clear without the text and yet it still needs to be quickly understood. When this happens, a clear title can tie the icon and copy together. Something like "promoting good business across the world."
Above is an example of more detailed icons supporting copy. These are a great way to elevate the message on the page. They draw the reader's eye in, and quickly support the copy in a simple visual way.
Social media icons
Ah yes, the ever-ubiquitous social media icon. Found on almost all websites and marketing materials, these icons are great indicators of a broader social media presence. There are, of course, the familiar social media icons such as Facebook, Instagram, or Twitter. In this case, check out the media kits and licensing provided by these companies. Often the icon files are free to download, but keep in mind you often cannot change their color (unless it's black or white) or the icon itself. Let's face it, you probably wouldn't want someone changing your logo icon either. So, stick with the rules.
But let's talk about creating your own icon for social media use. When creating an icon for application on various social media platforms, keep in mind it needs to be flexible and simple. Often icons for social media are designed in the shape of a square with ample room around the corners, since, depending on the social media platform, your logo icon could either be placed in a square, a square with rounded corners, or a circle. It's also going to be viewed at large and small sizes, so this is where the simple part comes in. An overly complex icon is not going to be very recognizable in a Facebook newsfeed on your phone.
That said, social media icons are used for just that… social media applications. Whether they are linking TO a social media application, or it's the appearance of your icon on the app itself, simplicity is key.
Universal icons
Icons can be used to resonate with a global audience when words can't effectively reach such a broad group. Think about street signs across the world. Without knowing the language, you can clearly understand a warning or message. Same idea applies to a marketing piece or website. If a user sees a magnifying glass on your site, it is universally understood that means "search." This doesn't mean, however, that all icons work for a global audience. A great example of this is referenced in a Creativebloq article on icons:
"… in the West an owl stands for wisdom, while in the East it's a symbol of stupidity. Poor old owl." — Ruth Hamilton, Creativebloq
In fact, few icons work universally. Think about the Shopping Cart. Seems pretty universal, right? Wrong. That cart is also often represented as a bag, or even a basket. Same goes for the "heart" icon. It can mean "favorite, " "love," or "save," which makes it difficult to understand right off the bat. On top of that, "favorite," "love," and "save" can also be represented as a star. When using icons, do your research. What will make sense to your audience? Is it really universal?
Icons that imply an action
Found everywhere on the web, these are icons that hint at an action the user needs to take. Generally these are universal icons and therefore understood around the world without labels or introduction. A great example of this is the "play" button. Quickly understood and recognized, the "play" button just needs one click or tap, and the user knows that a video or song will start playing. The action is already implied in the icon. Another example is the "home" icon. Click on that icon to get "home."
While these icons can exist without labels, it is wise to consider adding labels when you can for the sake of ADA compliance and overall clarity.
Favicons
Favicons are a subtle icon that can solidify the branding of a web page. Take a look at the page tabs at the top of your browser window. See all those little icons next to the page title? That's a Favicon. Favicons are a subtle reminder of where you are, especially if, like me, you have about 15 tabs open at any given time. Favicons also appear in your bookmarks bar as well as the icon that appears when you save a site to the home screen on your phone.
A nice cherry-on-top for any website, the Favicon can often get overlooked. A Favicon is actually a collection of many different sizes of icons, used for a variety of devices. There are a couple of ways to approach the Favicon. First, there is the ICO file. An ICO file contains multiple files, all set up to conform to the multiple applications needed for the Favicon. This method works great because all the files needed are contained in one tidy ICO file.
The other option is to save the multiple files yourself or via a generator. Often, my approach is to create a high-quality PNG (in a 64px x 64px square). I then use a favicon generator that takes this PNG and saves it in the 24 sizes needed to appear in bookmarks, URL bars, tabs, and Apple and Android screens. A nice added bonus to this latter method is I can take a few of these files and customize them to be more ideal for their application. Sometimes an image that looks great in a tab won't work as well as the icon on your Android or iPhone home screen. This flexibility makes this my preferred method of creating Favicon files.
Clearly icons have a variety of ways they can be used. On top of determining which kind of icons you need and why, you need them to match the look and feel of your brand.
What if you want your icons to look special?
There are vast banks of pre-created icons. Whether they are free or charge a fee for use, these icons can be an excellent time-saver for a quick print or web piece. The key is making sure these icons remain consistent throughout as you pick and choose icons that suit the messages you are trying to convey. Or, if you have a designer handy, they can take these icons and adjust them as needed. Not too shabby. Below are a few resources for free icon sets, just be sure to check licensing and crediting:
entypo.com
thenounproject.com
flaticon.com
Often, however, there isn't an icon that quite matches the message your piece needs to convey in those pre-made sets. Or maybe you have a very particular look you are after in order to match your overall brand. Or maybe your competitor is using the same free icon set (yikes). In such instances, custom is the way to go.
When thinking about custom icons, consider if you need just a couple icons, or an entire icon set. A few icons? Okay. A designer can create a few for your brochure or web page and you are on your way. But what about future print pieces? Future web pages? It might be a good idea to have a repository of icons custom-made to suit all of your business needs for present and future work.
While creating an entire custom icon set is a large chunk of work, it can be a time-saver in the long-run. Any future marketing pieces or presentations already have a ready-to-go repository of icons. This allows for brand consistency and ease-of-use for employees.
Next time you find yourself perusing a website or printed marketing piece, take a moment to look at the icons. Are they clear? Are they consistent? Are they taking too much away from the content on the page? How are they enhancing the content? Are they distracting? See what is working and what is not. Chances are, you didn't look all that closely at the icons before, but now you can see the subtle brilliance of a good icon set. Even better, you can apply these insights to your next marketing piece or website.
It happens all the time. In just about every meeting with every client there's a point when words stop working as expected. You say one thing; your client hears another.
Miscommunication with clients is particularly frustrating because as branding designers we are in the business of communication. We pride ourselves in our ability to simplify the complex. We leap at the challenge to transform a mess of disjointed inputs into an elegant output. We labor long hours, fine-tuning our client's communications in order to ensure their message is easy to understand and easy to act upon.
But then, inevitably, it happens. While you're pitching that all-important big idea to a new client—or even just trying to describe the thing on your screen to someone over the phone — the understanding of a word gets in the way.
It happened the other day at our office. A couple members of our design team were meeting with an important client who works in the online security space. Our work for this client includes the development of a branding toolkit that includes about thirty icons for them to use in presentations and on their website. In addition to this expansive set of simple icons, we're also developing a handful of more detailed illustrations for their website. These larger illustrations are being used to support paragraphs of written content about our client's services and target industries. Together, the icons and illustrations come together to form an infographic we're designing to communicate the various methods and tools our client uses to keep the Internet safer for everyone.
Problem was, several words kept getting mixed up as our conversation with the client bounced around between different pages of the website and other branding elements we were discussing. When one of our designers began talking about adding texture to the illustrations, it took a minute to realize the client was actually talking about the iconography. And when someone on the client side mentioned the logo could be bigger, we suggested increasing the logotype but keeping the size of the logo's icon unchanged, given the space restraints. Now wait, which icon are we talking about again?
Backtracking to untangle the word jumbles cost everyone in the meeting extra time and resulted in a wee bit of frustration on my part. But the problem wasn't a lack of listening. The problem was a lack of agreement about what these words meant by those sitting around the table.
So I asked myself: What could we have done better, in advance of this client review meeting, to make sure everyone was in agreement on the basic definition of terms?
One way could have been through the development of a more comprehensive brand book. In fact, whenever a client hires us to develop a branding system we always recommend including an identity guide or brand book as part of our deliverables. Whether it's just a few short pages (we call this an identity guide) or something longer and more elaborate (we call this a brand book), the document is a valuable tool that can — when done correctly — improve communication between our firm and the various stakeholders on the client side.
The brand book we initially created for the client described above included some information about the various types of artwork we developed. Unfortunately, we missed an opportunity to clearly define the difference between "icon" and "illustration." These are illustrations. Those are icons. This is how we use the illustrations. That is how we use icons.
An early draft of the brand book didn't do this, but we're now updating the document to make sure everyone is on the same page.
Top nine offenders
Another way to get in sync with a new client is to give them a list of branding terms, with definitions, that you anticipate will be used during your time of working together. Best to do this early in the process — well before you start designing anything.
Below is a list of nine words, with definitions, that in my experience get used (and misused) most often when branding designers and their clients attempt to communicate.
1 | Brand: A brand is a noun. It's a thing. More specifically, a brand is how someone might describe your organization's reputation. It's what your customers think or feel when they think of you. Example: Apple's brand is about style, while Dell's brand is about … meh.
2| Branding: The ing tells us that branding is an action. Developing your organization's logo is an act of branding design. Likewise, the act of applying your brand identity elements (your logo, color palette, fonts, etc.) to say, a brochure or a website, is an act of branding application.
3 | Logo: Unless we're specifically talking about the mark a branding iron burns into the hide of cattle, your logo is not your brand. Conversely, your brand is not your logo. These two words shouldn't be swapped around willy nilly. A logo is a distinctive visual mark that represents a brand. It visually identifies the brand in a similar way that a name, when spoken, audibly identifies the brand. Most logos include two elements: 1) typographic letterforms called a logotype; and 2) an illustrated component called an icon.
4 | Logotype: The letterforms of a logo, especially when distinctly designed to represent your brand, are called a logotype. Examples of stand-alone logotypes are Coca-Cola, FedEx, and Samsung. Another word for logotype is wordmark.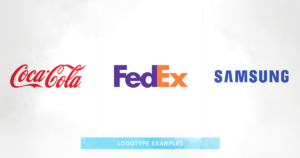 5 | Icon: If your logo has an illustrated component that is separate from its letterforms, this part of the logo is often called an icon. It generally will communicate a singular idea, although designers often enjoy packing multiple (sometimes hidden) meanings within a single icon. Synonymous terms are symbol and mark. My advice: whatever word you choose, pick one and stick to it. Big brands with household names like Nike, Apple, and McDonald's can get away with using an icon alone as a recognizable substitute for their full logo. In these instances, the icon may be referred to as a brandmark.
6 | Iconography: A collection of icons — separate from the logo— used within a brand's visual identity system can be referred to as iconography. A defining characteristic of the individual icons is that they're simple. Iconography, therefore, is a set of simple illustrated icons.
7 | Tagline: This is a descriptive statement. It's a short, useful phrase that's tagged onto your logo. Its purpose is to describe what your organization does, how people can benefit from your services, or something else that differentiates your organization from others. Below is a logo and tagline developed by the MAC for a company that produces heirloom-quality furniture with a lifetime warranty.
8 | Slogan: This is a marketing statement. There are significant differences between a slogan and a tagline, which I've written about in more detail here. Slogans are catchy phrases you could lead marketing campaigns with, and when at their best will make you feel something. Many big brands will change their slogans often (remember Food, Folks, and Fun?), but others (e.g. Just Do It) stick around for years.
9 | Lockup: When a logotype, icon, and tagline (or marketing slogan) come together as a single piece of artwork — and delivered say, as a single JPEG or EPS file —you've got yourself a lockup. This word can also be used to describe multiple logos, such as a parent company logo and a sub-brand logo, that are used together.
Well, those are the big ones. Did I miss something from your list of misunderstood design terms? Feel free to copy/paste the definitions above and drop them onto your own company letterhead. Then, pass it around the table at the beginning of your next design review meeting.
This article is also published on Medium.
Let's come right out and say it: technology branding strategies are undervalued.
In an industry racing to define the future, the short-term rush of product marketing too often steals focus from the slower wheel of brand development. It's easy to see why. The big picture, the deeper story, the overarching audience relationship feels less urgent by comparison. Less important.
Major tech brands like Google, AT&T, and Microsoft would disagree.
"When I first started my career in high-tech B2B marketing, I didn't know what branding was," said Juliette Rizkallah, CMO at SailPoint. "I was trained in product management and product marketing, and in my mind if the product was good, that was all the company needed."
The same mistake is common in Silicon Valley, where it's easy to "think that the best product will beat out all of the competition," said Samantha Warren, Experience Design Manager at Adobe Stock + Typekit. Problem is, the best products don't always make the most successful companies, Warren said.
In fact, according to entrepreneur Larry Alton, "not having a brand" tops the list of mistakes that tech startups are prone to make.
Your technology branding strategy deserves at least as much attention as the evolution of your tech. Strategically, it's the foundation that supports everything you aspire to do — so how to make it a good one?
To answer that question, let's see what we can learn from some of the strongest technology branding strategies out there. Microsoft, Google, and AT&T are counted among the top 25 "biggest technology brands of the world." They each invest significant energy in their branding, using it to unite many disparate offerings into a coherent family while expressing a focused emotional undercurrent that draws customers to their door.
There are many aspects of the example they set that we could highlight — but one secret they all have in common is simply this:
Their brand promise is unmistakably clear
A brand promise is one, at most two, core concepts that express your basic value proposition and sum up why your customers choose your brand.
These promises look simple, right? And so they should. A brand promise needs to represent a clear, simple idea that's easy to wrap your mind around.
But defining a promise of your own is usually harder than it looks. Working with technology firms here at the MAC, we've found that when you're deep in the weeds in product development and internal company dynamics, it's not easy to zoom in on the one true idea that effectively distills your identity into a few words — the core, unifying, emotionally-resonant promise that's strong enough, important enough, and authentic enough to provide a lasting foundation for your brand.
Nonetheless, it's a challenge that all technology branding strategies must overcome in order to succeed. Following are a few tips to get you moving in the right direction.
1. Your brand promise originates from your vision
Our client Shadowserver is a nonprofit organization working quietly behind the scenes to make the Internet more secure for everyone. Their vision of "a more secure Internet" provides focus for everything they do. Thanks to the altruism that drives it, Shadowserver has built credibility with cyber security teams across the globe and pioneered a radical shift toward collaboration and transparency in their field.
That's the power of a vision. If you know what you're aiming for and why, your tactical efforts can converge upon a goal that not only makes you more effective internally, but gives your external audiences a reason to rally with you.
Ask yourself this: how does your company vision benefit your audience? Articulate the answer, and you'll be one step closer to a strong brand promise.
2. Your brand promise communicates your USP
What are you doing well, that no one else is doing at all?
Your unique selling proposition (or USP) is a fundamental component of your brand. It defines who your audience is and why they care about you: vital information when claiming your position in the heavily saturated technology market.
Defining your USP is a principal goal of our discovery process at the MAC. We unearth it through a thorough competitive analysis, informed by extensive interviews with internal and external stakeholders. Once we've defined your USP, we build on that with your visual identity and essential messaging components — not the least of which is your brand promise.
3. Your brand promise translates to a story
When a customer purchases your product, does it give them the power of a magician to transform reality? That's the storyline behind the Apple brand, and it's a good one.
Does it turn them into a rebel, subverting expectations and rewriting the rules? In past decades, Apple tried that story on for size, too.
Does it make your customer a creator who reenvisions the world around them? Sony told that story when advertising its cameras.
There are many ways to tell a compelling story with your brand. The point is, all great technology branding strategies tell one.
Think of it this way. If your brand story defines the relationship between your company and your audience (who are you to them? who do you help them become?), your brand promise drives the plot. It's the kernel at the center, around which the rest of the story spins.
There's a silver lining to the fact that technology firms tend to undervalue branding. It means that by defining yours, you can develop an edge on your competitors.
In that spirit, we encourage you to step back from the lemming rush on the short term, and pause for a moment to reflect on what you do and why (your vision). Identify what's unique about your offerings, a quality not shared with anyone else in the world (your USP). Figure out why your customers care; then brainstorm who that makes you by extension (your story).
Out of these exercises, your brand promise will emerge.
Need a hand? We'll be here for you.
This article is also published on Medium.
You've spent countless hours developing a game-changing technology. You know all the nitty gritty details of its functionality and want to showcase your technical skills and knowledge.
Your website is laden with pages of detailed descriptions, specs, and a chronology of product development.
But, the people aren't listening. The problem — your granular descriptions don't compute.
When people visit your website and encounter dense paragraphs, they're likely to click away. These details matter to you, but they likely do not speak to your customers.
A technology branding strategy will help make your nonhuman offerings relatable to humans.
Technology branding strategies add value
Even if you've found the perfect combination of price point and performance, if you don't have a branding strategy, you're missing a piece of the formula.
Having a strong brand to lean on will:
Provide an anchor for your organization in the fast-changing technology landscape — your products may change, but your brand will stay the same
Make your offerings relevant and desirable to your customers
Provide a customer connection that can translate into loyalty
How to humanize your technology brand
Brand strategy is a broad topic, encompassing a defined organizational purpose, consistent brand behavior, an emotional impact, and more.
A key purpose of a strong technology branding strategy is to inject humanness into your brand. We can accomplish this by defining your brand personality and the emotional response you want to elicit from your audience.
Consider the following brand personalities and examples to help guide your own brand strategy development, and transform your robotic interactions into interactions that grow customer loyalty.
The reinforcer brand
A reinforcer brand confirms its audience's perspective. They're dialed in on their consumers desires and needs.
If you're serving a particular industry or narrow audience, this is likely your strategy of choice.
With a specific offering that resonates on a deep level, your audience will gleefully form a community.
For example, VMWare, a leading enterprise technology company, offers a diverse selection of products and services ranging from cloud management to data security. Its healthcare solutions target the industry's needs specifically with digital workspaces, data security, and IoT for hospitals and clinics.
Its brand personality can be observed in its web content, which is centered on use cases and the end user. What you don't find here is a slew of technical specs and product development history.
VMWare reinforces its relevance by building community with an active social media presence and blog. Its brand is actively aligning its offerings with its consumer's worldview to build trust and community.
Takeaway: As a reinforcer brand, pinpoint ways to closely tie your offerings to your audience's needs and desires. To live out your brand personality, integrate messages that encourage collaboration, community, and trust.
The supporter brand
A supporter brand invites behavior modifications or improvements. They're solving a problem with an innovative solution that asks their audience to make a change.
If you're a supporter brand, you can win your customer's heads and hearts with educational resources and inspirational stories.
IBM's suite of collaboration platforms invites employers to find the tools that empower their people to "do what they do best." The product video presents complicated technology in an inspiring and captivating way.
Takeaway: As a supporter brand, look for opportunities to help your audience make adaptations so they can successfully use your product or service. Focus your messages on empowerment, rather than product capabilities. Be your customer's cheerleader.
The challenger brand
A challenger technology brand questions the status quo and offers a groundbreaking alternative. They're persuasive and rebellious.
Its audience also thrives on thinking outside the box and regularly seeks alternatives.
Slack, a business application, challenged the way teams do work. The founders questioned the logic of disconnected channels and created a centralized hub for all communication and collaboration needs.
Slack centers its brand on the need to change workplace behavior. This message comes through in its product video and social media content.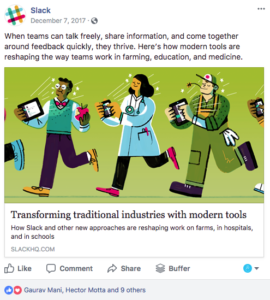 Takeaway: As a challenger brand, you can activate your audience with a directive to change their behavior. But be tactful. If you're too pushy, your approach will backfire.
Bridge the gap
Whether you're a reinforcer, supporter, or challenger, a technology branding strategy can bridge the gap between your human audience and your nonhuman offerings.
Each of these strategies focuses on the end user rather than the ins and outs of the product or service itself.
Choose a brand personality that aligns with your organization, and centralize your messaging on that persona. The result — a technology brand strategy coded for humans.
This article is also published on Medium.
Nonprofits exist to make an impact. And branding can help you deepen the impact you make: clarifying your goals, translating your mission into a powerful story, and bringing your entire organization into alignment.
The importance of branding for nonprofits is well expressed by several notable names, including the World Wildlife Fund, The Red Cross, and Cancer Research UK, all of which are "widely recognized," as "people from all over the world know what they do and who they are," said Dan Linn at Solution Link. Why are these organizations well known? — "because they have a great brand strategy."
Developing such a strategy is a complex task that touches on many different areas, all of which are achievable with the right expertise. What's often most difficult lies closer to home: getting internal buy-in from your team during the branding process.
Today we're going to share a simple technique to help you move through that challenge successfully. Before we go there, let's start by looking at some of the markers of a strong brand.
Building a stronger brand
A strong brand is one that differentiates your nonprofit from others in the same space. One that harnesses the power of storytelling to communicate what you do in a way that inspires people to join in your mission. One that builds credibility by expressing your leadership, your impact, and your partnerships.
To bring these thoughts to life, let's see how our client, the Center for Small Farms and Community Food Systems at Oregon State University, does so.
Example: the Center for Small Farms
The Center for Small Farms hired the MAC to strengthen their brand with a messaging toolkit that included an elevator pitch, several audience-specific value propositions, and extended copywriting appropriate for a variety of applications (such as a website or brochure).
Here are a few excerpts that demonstrate some of the principles we mentioned above.
1. Express leadership
"The Center for Small Farms and Community Food Systems is a leader in sustainable, local food production. We're working all over Oregon to unravel challenges and create innovation in farming communities."
2. Express impact
"Small farms boost local economies, support the environment, promote public awareness, and build community resilience. And every dollar of support helps us do more."
3. Express partnerships
"We have partners in every corner of the industry, who trust us because we're effective and support us because it matters."
By developing language designed to strengthen our client's brand, we helped the nonprofit position itself to reach larger donors and pursue its financial goals.
That said, doing good work is only part of the process. How a nonprofit handles feedback within its team plays a major role in determining how successful that work will be.
The buy-in challenge
It's one thing to hire an agency to partner with you on your branding. It's quite another to persuade your internal stakeholders on that partner's strategic recommendations.
Why is it so hard?
The disconnect comes down to a difference in what we know, and where we're standing.
1. Different expertise
The staff and board of a nonprofit are experts in doing the work of the organization, and they typically care a great deal about that work. Specialists within a branding firm, meanwhile, are experts in brand communication.
Sometimes it's hard for internal stakeholders to trust external expertise, because it stems from a skill set and rationale outside their own experience.
2. Different vantage point
Internal stakeholders are insiders: they have powerful insight into the nonprofit's values and offerings. But being immersed also lends itself to blind-spots about how your organization is perceived by those you seek to reach.
Sometimes the creative solutions that meet the needs of your external audiences feel counterintuitive to an insider. When doing the tremendously important work of branding, it's crucial to see from the outside in.
Seek feedback — not buy-in
The solution to this challenge is disarmingly simple. Change the goal from "getting everyone's buy-in" to "hearing everyone's input."
It's rare for everyone on a large team to agree on anything, let alone on creative decisions. In fact, perfect consensus can be detrimental to creative work. The most daring, noticeable, memorable, and effective ideas are also the most likely to get cut right off the bat, leaving only the safest and blandest ideas to be getting on with.
Great branding isn't the result of unanimous committee agreement. It's the work of small, tightly focused teams with the experience, research, and insight to make decisions that prove their worth over time.
To be clear, it's vital to include your team in the branding process. As internal experts, their perspectives are invaluable. As ambassadors of your brand, they need to be on the same page about what it all means. And as human beings, they're sure to feel frustrated if they're ignored.
Switching the focus from buy-in to feedback addresses all these needs at once.
How it works
1. Seek input early and often
Be proactive about collecting input from those with the vantage point to offer meaningful feedback. Listen well, evaluate how their input aligns with stated project goals, and integrate what's useful.
2. Reserve the right to make a different decision
Don't count on getting 100 percent buy-in on any step of the branding process. Allow yourself to rule out feedback that's off target. Expect some amount of disagreement with your decisions. It's normal for people to dislike what they aren't used to; that's a human impulse.
Remember, the goal isn't to please everyone on your team, but to make decisions that empower your organization to do its best work.
When you take this approach, beautiful things can happen. Even amid internal disagreement, proactive listening combined with confident leadership can bring an entire team together.
The process in action: the Center for Small Farms
The client we mentioned earlier in this article is a case in point. Here's how the process went for the Center for Small Farms.
We did our homework: the MAC performed a brand audit, then conducted interviews with the nonprofit's directors, extension agents working directly with farmers, the farmers themselves, and others.
Drawing from what we learned about the nonprofit's mission, offerings, lived culture, and audiences, we developed messaging components firmly founded on research and expertise.
We worked with the nonprofit's directors (a team of two) to fine-tune the messaging.
We scheduled a round-table discussion to present the refined work to the larger team and collect their feedback.
We met with the two directors to review the team's input and evaluate what we heard. We didn't incorporate every note, but we did consider every voice and integrate input that served the project goals.
The result was a strong, unified messaging toolkit, which will help the entire nonprofit unify their voice throughout the state of Oregon. And because each team member knows their voice was heard, they're ready to stand behind it.
Tricky, but worth it
At the MAC we understand how hard it can be for nonprofit teams to navigate internal politics, avoid the pitfalls of committee decision-making, and gather multiple perspectives into a productive consensus. It's a process we've helped many of our clients navigate.
In fact, we see it as part of our job as a branding partner to provide this type of guidance, helping each organization work through their internal process successfully to arrive at a final product that truly serves their goals.
Hard work? Sure, it can be.
Worth every minute? Absolutely.
This article is also published on Medium.
Branding for nonprofits is not just a fundraising tactic. In fact, it's not a tactic at all. Branding is a strategy that serves as the compass for your different initiatives.
A strong brand builds your trustworthiness and credibility. And the best way to grow trust and connect people to your nonprofit is through brand storytelling.
Your story creates a connection between your organization and individuals. It invites them to get involved and shape a future narrative.
We're not just telling a story to entertain. The goal is to tell a story that draws people in and inspires them to share it with their own connections. You want to engage your audience in a powerful way that elicits emotional connection that translates to taking action.
Brand storytelling framework
You may doubt your ability to tell a captivating story. You may even doubt that your nonprofit has a story worth telling. But I say, baloney.
You don't lack the ability and you're not without a story. What you're missing is a framework to weave your nonprofit's brand into a story that wins you followers.
For this, we'll turn to Joseph Campbell.
Campbell, a mythological researcher, was best known for his work in comparative mythology and religion. Through his studies he discovered a common narrative pattern called the hero's journey.
The hero's journey provides a foundational framework that can be applied to crafting a captivating brand story that has emotional appeal, is relatable, and will draw people in.
We'll roughly follow Campbell's concept to illustrate how you can use the hero's journey to tell your nonprofit's brand story. A quick case study on the nonprofit charity:water will provide a concrete example of how to put the framework into action.
Step one: Identify your main character and their trigger
Every story needs a main character or protagonist. This character (or hero) is someone or something that your audience can identify with and have empathy for.
Your main character is likely your founder, but it could also be your nonprofit as a whole, your product, or service.
Once you've identified your main character, list out their main personality traits and attributes. These attributes can help you connect with your audience in a humanistic way.
Charity:water's main character is its founder Scott Harrison. Years of promoting nightclubs and fashion events in New York left him financially successful but spiritually bankrupt.
This tension and frustration was his trigger. Harrison asked himself, "What would the opposite of my life look like?"
He leaned in to the trigger and signed up for an eight-month volunteer position on Mercy Ships: hospital ships that provide free medical service to the world's poorest nations.
Step two: Address the conflict
Your hero's conflict doesn't need to be absolutely gut-wrenching to be inspiring or believable. But without conflict, your story is a lullaby.
Since you're a nonprofit, the conflict to include in your story is likely found in your mission statement. Your conflict is the issue or problem you are determined to solve.
For Cornerstone Associates, a client of the MAC, the main conflict it addresses are the barriers people with mental and physical disabilities face in becoming integrated into the community.
For Harrison, when he was volunteering with Mercy Ships, he encountered a level of poverty and disease that he didn't know existed. This experience conflicted with what he believed to be an acceptable standard of living and became the impetus for starting his nonprofit.
When speaking to their followers, charity:water invites people to imagine what life would be like without water. This stirs up an inner conflict with the goal of encouraging people to get involved with the nonprofit's cause.
Step three: The revelation
The struggle with conflict leads to the eventual revelation that the issue or problem can be addressed.
For your nonprofit's story, the revelation could be how your founder discovered a solution to a specific problem or how a service you offer addresses a specific need.
When Harrison returned to New York, he was determined to address the medical problems related to inadequate access to clean drinking water.
On his 31st birthday, he launched charity:water by asking for donations of $31 instead of gifts. This first step to addressing the identified problem brought in $15,000 and helped build the nonprofit's first wells.
For followers of charity:water, they understand how their financial contributions or sweat equity contribute to improved health and quality of life.
Step four: Leading the transformation
This is the part of the story where you show how your nonprofit is solving an issue in a unique way. Through the transformation, you illustrate the value you provide. This transformation invites your followers to to connect with you on an emotional and logical level.
The brand story for charity:water contains two transformations. Harrison was personally transformed, and through his nonprofit he is transforming the lives of others.
Finding your nonprofit's brand story
Now that you have a foundational framework, get out there and look for your brand stories. Stories are developing every day; you just have to be willing to look.
Look for small, specific stories that bring your brand to life. How did a project help one person? Was a volunteer transformed by working with your nonprofit?
Win followers
By working with the hero's journey framework and being on constant alert for intriguing stories, you're well armed to craft a story that solidifies your nonprofit brand in people's minds and wins you followers.
When you tell a captivating story, you humanize your nonprofit and invite connection. When you strike a chord, your story will inspire people to follow along and actively help you achieve your mission.
This article is also published on Medium.
As a healthcare marketer, you long to be top-of-mind when someone is looking for a new provider. You strive to get these patients in the door and harness decades-long loyalty.
You know that cultivating a healthcare branding strategy will help you stand out in the marketplace, attract new patients, and top-notch physicians. But when you receive requests for a slew of tactical materials, the importance of branding gets lost in the noise.
Do the following, and you will be well on your way to crafting a more strategic brand for your healthcare organization.
1. Do your research
Before launching a complete brand overhaul, you must conduct thorough research. To use a healthcare analogy — must treat the cause, not the symptoms.
Only after gathering qualitative and quantitative data can you progress to pinpointing your brand strategy.
When Samaritan Health Services selected Madison Ave. Collective for a regional public health awareness initiative, we analyzed comparable campaigns, interviewed their leaders, and talked to doctors, patients, and health administrators.
This information directed every decision to bring the PainWise initiative to fruition. We'll take a closer look later on.
2. Brand positioning: Think you're a leader? Think again.
A quick scroll through the positioning statements of the top hospitals in the U.S. reveals the majority claim to be "leaders" and "cutting-edge."
If your organization is also claiming to be a leader, you're not alone — and that's the problem.
We get it. Your positioning statement likely evolved in a committee comprised of your marketing team and hospital's leading physicians. They want to be innovative leaders, and that's what made the cut.
To truly differentiate, you need to think long and hard about how you can distinguish yourself in the healthcare industry.
By looking at the overlap of your services and attributes, your competitor's offerings, and market needs, you will distill your brand position.
From this, a consistent, strong message that resonates with internal and external audiences will evolve.
For instance, maybe you're the only provider for a certain demographic in a specific region. This powerful claim, matched with aligned services, will communicate a beneficial difference to the patients you want to reach.
3. Brand experience: Consistency is key
A key part of your healthcare branding strategy is to ensure your values are communicated through every single touchpoint.
If you claim to value patients, but keep them on hold for 10 minutes on the phone, guess what — you're killing your brand.
The phrase "patient experience" has been floating around the healthcare industry for a few years, but there is still room to grow.
A recent Forbes article warned that start-ups, such as Circle Medical Group of California, are quickly filling in the gap where long-standing providers are falling short.
By improving your organization's online experience with a user-friendly website, patient portals, and online scheduling, you can start to bring your desired brand experience in-line with reality.
4. Brand story: Bringing your brand to life
Your brand story isn't about you. It's about how you relate to the patients you serve.
You may be impressed with a staff physician's research, but that isn't tangible to a future patient. What is tangible is how that research was applied to help cure a patient's disease.
For example, research is a significant focus of St. Jude's Children's Hospital, but it isn't the focus of its brand stories. Instead, the children who benefit get the spotlight. Web content focused on children and their stories brings St. Jude's brand promise to life.
5. Brand identity: All of the pretty things
A brand identity is comprised of the messaging (tone, word choice) and visual elements (logo, colors, font) that consistently represent your organization.
To be successful, it must be rooted in research and tightly aligned with your brand position.
For PainWise, we distilled a core message of hope for those who are overcoming opioid addiction.
To represent this visually, we selected photography that communicates hope, chose shades of blue to express trustworthiness and cheerfulness, and added texture to acknowledge the pain experienced by patients.
6. Brand activation: Walk the talk
An often overlooked but essential element of a successful brand strategy is the collaboration of your internal stakeholders. Your physicians, receptionists, and other team members are the real-life expression of your brand. They must understand and support your brand so they can share it authentically.
One way to activate your external audience is through a marketing campaign, such as a brand ambassador program.
For example, the Mayo Clinic invites past and current patients to be a "Mayo Clinic Champion." Champions (aka brand ambassadors) are encouraged to share their story and advocate for other patients.
Once you have these six areas dialed in, you'll be on your way to having a solid brand strategy. Developing a brand strategy for your healthcare organization provides you with standard operating procedures (no pun intended!), so the next time your physicians ask for a new logo iteration, you'll be armed with an informed guide to make the best decision for your brand.
You'll also be able to protect your brand value, stand out from the competition, and recruit new patients.
This article is also published on Medium.
Last summer, Forrester Research made an observation. Times are changing in marketing, and thanks to the recent flood of digital channels, social activity, and mobile tech, CMOs are "taking on significantly broader, and often unfamiliar, responsibilities."
Nearly all (96 percent) feel that the breadth of skills required for success these days has "increased dramatically." Almost half (44 percent) said they struggle to "find the right combination of people and skills in the job market."
The struggle is real in healthcare, where hospital and group practice administrators strive to protect quality of care, manage finances effectively, and market their organizations — all at the same time.
Sometimes it's practical to handle all this in-house; sometimes it's not. Sometimes the difference isn't clear. So how can you tell when it's time to outsource your healthcare marketing strategy?
1. You're in a moment of change
When in the midst of an organizational transition — growing, expanding into a new market, or launching a new service — it's vital to have the focused attention of a specialized team to guide you through the change successfully. An outside marketing partner will bring a larger perspective at a time when your focus is quite reasonably divided and supply you with the expertise you need at a sensitive moment.
2. You're facing a short-term challenge
When you have a project on the table that's larger than your team is set to handle, or when the deadline requires faster results than you can typically deliver, outsourcing is an excellent fallback.
3. You can't see the big picture
There's a difference between healthcare marketing tactics and a healthcare marketing strategy. Tactics are the hands and feet of your marketing effort. Strategy is the brain.
If your team tends to jump into tasks without thinking about the big picture, it's time to take a step back. You may be headed in the wrong direction. Your efforts may be scattershot. You may get a better return on investment by redirecting or tightening your focus.
Bottom line, when you're up to your neck in details, a strategic partner can lift you above the mêlée and help you direct your effort where it counts.
4. You need new ideas
Maybe you've got a solid marketing strategy in place — but you've hit a rut, and you need some fresh thoughts. Maybe the strategy that has served you well for years just isn't pulling its weight anymore, and you're not sure why. Or maybe you just need an expert's input on a particular challenge.
When coming up with new solutions is the sticking point, it may be time to see what an external strategist can do for you.
5. You're at capacity
If you can think of a thousand things off the top of your head that you'd love to be doing with your marketing, but despite your best efforts, you have yet to fit them in, you're at capacity.
There are several options in that situation. You could allow your healthcare marketing strategy to remain where it is. You could make a long-term decision to expand capacity by adding new hires to your team. Or you could outsource. Which option is best?
It's okay to leave things as they are if your current approach is working for you.
Hiring is an option if you have the budget and facilities to support the new position long-term, if you can find the right candidate from your talent pool, and if you can bring in enough new hires to manage the amount of work you need done.
Outsourcing is the right choice when the scope of the work is larger than your new hires can handle, when you don't have the budget or space to make the long-term commitment of hiring new staff, or when you've determined that a short-term engagement with a marketing agency is simply more cost-effective.
Case in point: our client Samaritan Health Services has an in-house marketing team, which capably handles their day-to-day needs. They call the MAC when facing special projects like PainWise, a regional public awareness campaign that Samaritan launched to raise awareness about the opioid epidemic. Having provided the original branding, naming, and strategy for that effort, we continue to serve as the task force's strategic arm.
6. You want to know the costs upfront
When you need to protect your endeavors from budget-creep, outsourcing can serve as a strategic tool to contain costs. In-house projects may sprawl, but your external marketing partner will set clear parameters around the project and hold it on track, so you'll know in advance what will get done, at what cost.
7. You can't tell whether or not it's working
An experienced agency will provide more than expertise and follow-through. They'll also help you set achievable goals with metrics in place to evaluate project success.
That's important, because metrics are your flashlight. A healthcare organization might employ the best marketing tactics in the world, but without metrics, they're shooting in the dark. This type of uncertainty is hard to live with, long-term — and there's no reason to. Your marketing strategy is an investment. If you don't have the vantage point from which to measure its return, consider looking for someone who can help turn those lights on.
8. You need to rebrand
There's a reason they call it "identity." Your brand defines who you are, what you do, for whom, and why. To answer those questions is a gigantic undertaking with major business implications, and it calls for a dedicated and experienced team of professionals to do it right.
If an upcoming rebrand is part of your healthcare marketing strategy, make sure it's in good hands. At no other time is outsourcing more important.
The eight points we covered above are just examples. But as you may have noticed, they do represents a few common patterns. To put it briefly, the outsourcing question boils down to this:
Major change
Special challenges
A rut
The need to scale capacity short-term
A rebrand
When needs like these arise, consider outsourcing your healthcare marketing strategy to a trusted partner.
This article is also published on Medium.