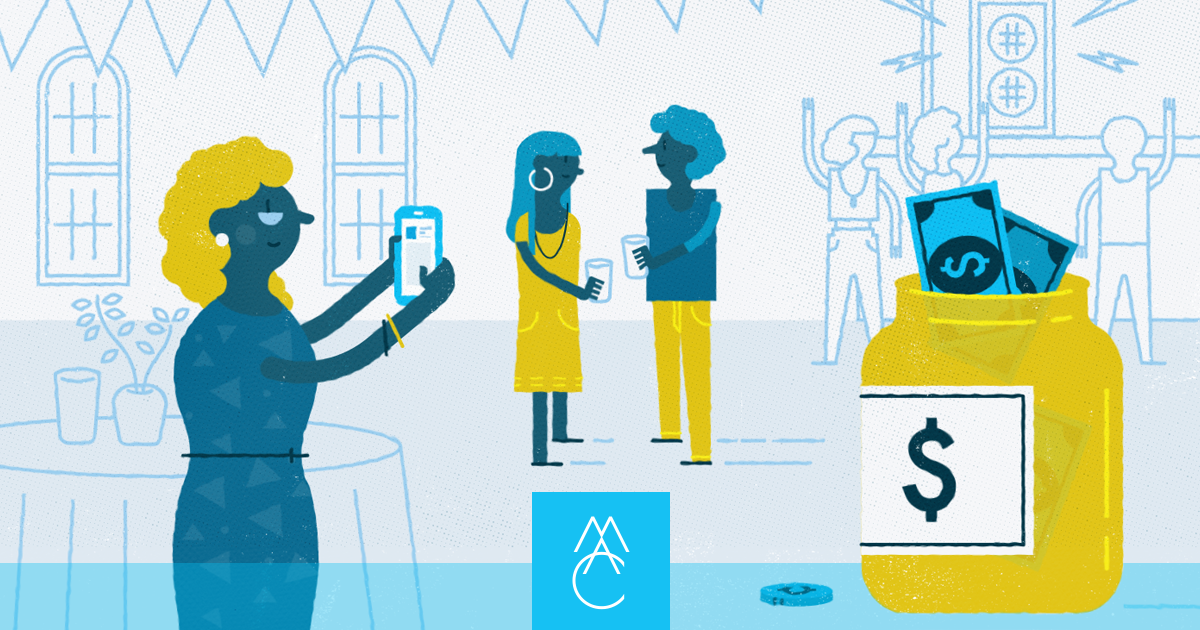 How to reach fundraising goals through generational marketing
It's a summer evening and you're attending a benefit concert for a local nonprofit.
As your eyes sweep the crowd, you notice a 55-year-old woman subtly snapping pictures of the band that she'll later post to Facebook or text to her kids. She has donated to the nonprofit for years, and the concert is just one more opportunity to make a contribution.
Meanwhile, a 37-year-old couple is hovering around the beer garden, waiting for their chance to take a picture with the nonprofit director and big benefactors so they can impress their Facebook friends. As they wait, they browse the organization's website to learn about donation opportunities.
A group of 25-year-old friends first learned about the concert thanks to the trendy band. When they found out it was a benefit concert — extra bonus! As the lead singer croons, they artfully take pictures and videos for their Instagram feed: #giveback.
Everyone appears to be enjoying the evening, but as a member of the board of directors, you're concerned that the nonprofit has missed an opportunity to drive home its message with potential advocates.
What could have been done differently?
Generational marketing
Generational marketing, the strategy of segmenting audiences based on generational characteristics, provides marketers with insights to the preferences, ideals, and values held by different age groups.
This knowledge allows organizations to craft messages that will resonate with target audience segments. That said, as with any segmentation strategy, remember that each audience group is comprised of unique individuals. Be wary of making sweeping generalizations or stereotypical appeals.
How to use it
Depending on your business sector, your unique selling point or brand promise could be cross-generational. This is especially likely if you're directing a nonprofit.
Regardless, when sharing your message you'll need to adjust your approach to effectively reach different generational segments.
Start with common characteristics, and then dig deeper for each targeted generation.
What are their emotional, informational, and functional needs?
What appeal (emotion, fear, humor, logic, etc.) will resonate?
What will motivate them to take action?
Once you've nailed down your message for each segment, you can ask:
What media platform will work best for your refined message and target audience?
Messages that drive action and engagement
So, how can you use generational targeting to drive engagement and action among different audience segments? Here are some ideas to get you started.
For Baby Boomers, your message could appeal to their desire for self-fulfillment by using the second person point of view. Also, do not remind them that they are aging.
Marketing tactics for baby boomers
Use a mix of digital and traditional marketing techniques.
Provide detailed information online that allows Baby Boomers to feel informed.
Show you're focused on customer service through user-friendly websites and opportunities for face-to-face interaction.
When creating a compelling message for Generation X, focus on your brand value. Make a direct connection between their individual needs and how your brand could impact their life. Also, if appropriate, subtly appeal to status.
Marketing tactics for generation X
As with Baby Boomers, used a mixed media approach.
Encourage email subscriptions and send regular email updates.
Use social media marketing for continual engagement.
When targeting Generation Y (aka Millennials), brands have the opportunity to align their message with this generation's desire to make a difference and help the greater good. If you do this while creatively communicating your brand's personality, you've struck gold.
Marketing ideas for millennials
Tap into online opportunities to engage one-one-one, such as in direct messages on Instagram or Facebook Messenger.
Show your brand personality through behind-the-scenes content.
Look for and encourage user-generated content.
Encore: Taking these principles to the next concert
Another benefit concert has arrived.
This time, your nonprofit has a firm understanding of the generational differences and preferences among its target audience groups. With this knowledge, you've used targeted messaging in your pre-event promotions to encourage attendance.
You recognized Baby Boomers as valuable contributors, thanked them for their regular donations, and told them that the founders wanted to meet them in person at the concert. At the concert they received material about becoming a legacy donor, meeting their desire to make a long-term impact.
You encouraged Generation X to attend, since the funds raised could improve their families' access to a new community initiative. The invitation to become a regular donor was included in their confirmation email.
You targeted Generation Y through messaging that clearly outlined how attendance would help the organization raise the remaining funds necessary to finish a community project. You also provided the opportunity to text your nonprofit a small donation, as the first step towards a long-term relationship.
As a result, attendance increased 20 percent over the previous year, and the nonprofit met its fundraising goal. Better yet, individuals from Generation X and Y — groups that had been minimally engaged — signed up for volunteer opportunities and sustaining, automated donations.
Knowing your target audience's age and the factors that shape generational attitudes and perceptions allows you to craft a message that is more likely to resonate and drive action.
This article is also published on Medium.