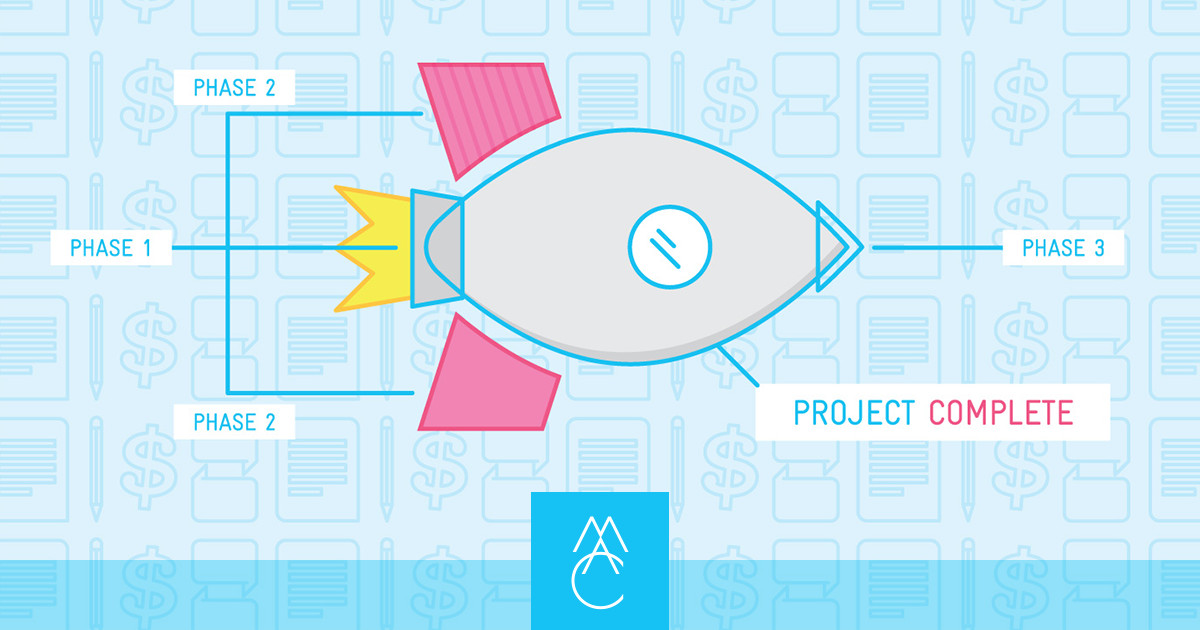 Use phased projects to help you avoid the RFP process
Request for Proposal (RFP) is a time-tested procurement process that's consistently worked well for some organizations in purchasing commodities and goods. But in the digital era, using RFPs in the procurement of creative services is an antiquated process that can cost you valuable time and may not lead to the best results.
Think about it this way: an RFP makes sense if your organization is trying to find the best deal on 50 tons of concrete. But if you're looking for someone to shape that concrete into a work of art, do you really want to start with a process designed to keep all qualified artists at arms length?
Eliminating RFPs from your procurement process for creative and website development services will get you better results and save you the investment of significant time and money.
Not sure how to avoid RFPs?
At this point you may be pointing out the fact that whether you like it or not, your organization has procurement regulations that force you to go to an RFP if the proposed project exceeds a certain dollar figure.
If this is the case let's frame the problem it in a different way: All projects are made up of phases, which inherently make up a fraction of the total project cost. In fact, many RFPs ask creative service agencies to outline their process and project phases in the proposal response and estimate the cost of each phase. So if a cost can be assigned to each phase, why not make these phases into separate, smaller projects?
This is the route more and more organizations and agencies are going when they begin to understand the downside of RFPs as they relate to creative services. This is a simplistic breakdown for illustrative purposes, but your $50,000 website project can easily become four or five individual projects that each separately fit within the purchasing limits set by your organization. When combined, these five projects equal one awesome website, and operating this way has allowed you to work with the partner of your choice.
And remember how I said avoiding RFPs could actually save you money? Well here's how: by avoiding the RPF and working directly with your chosen agency, that agency can better anticipate real costs and problems upfront after taking time to understand the project details with you. Otherwise, they are just making a best guess estimate they are locked into once it's written in the proposal. Most agencies also put an up-charge on RFP work since they'll only land about 10% of the RFPs they bid for, and time and money is invested into creating each RFP response proposal.
Every project is a little different, so make sure you are working with an expert firm that can help you navigate this process, lay out clear phase projects, and set achievable timelines and goals.
An in-depth example
If you're now intrigued and want to know more, here is a closer look at how our example $50,000 website project could be divided into smaller, less expensive projects.
Project/Phase 1: Discovery ($5K)
Discovery is the research and strategic planning phase that starts any successful project. Sometimes overlooked by less experienced firms, this is often the most vital part of any project where you work with the partner firm to uncover needs, define scope and timeline, and establish measurable goals for the project.
If you're unfamiliar with discovery — or want to know more about how it can help you — check out this free, 8-page Discovery Guide.
Project/Phase 2: Branding ($10K)
If you are going to invest the time and money into developing an extensive online tool for client, customer, or donor engagement, you really should make sure your message and brand image are on point before implementing these elements into your new website.
Project/Phase 3: Content Development ($5K)
Content development can include anything from photography, illustrations, video, or written copy that helps to tell your organization's story.
Project/Phase 4: UI/UX Design ($15K)
This phase includes information architecture, wireframing, and visual design mockups. It may overlap with content development and testing, depending on the schedule and nature of the project.
Project/Phase 5: Development & Testing ($15K)
Developing the website can begin as the design phase approaches completion. A web developer takes the static, designed pages and codes them into a functional website. This phase is typically completed with user testing, bug fixing, and launching the site.
If your organization has even tighter purchasing limits than those described above — or if your project contains more extensive requirements and a more hefty budget — some agencies may even be willing to break the outlined phases into smaller chunks. For example, the development and user testing phase could potentially be broken into two separate phases.
Why your organization will love this new process
My experience has shown that organizations who go to RFPs do so for one of three specific reasons:
The Well-Intentioned Organization: This organization and project leader doesn't realize there is a better way or isn't sure of the organization's policies. This team just wants to do things by the book.
The Traditional Organization: This organization goes to RFP on every project regardless of the service or product they are seeking because that's just the way it's always been done. They like the familiarity of the RFP process.
The Evil Organization: This organization just wants the FREE consulting to think out and scope the project for them so that they can take it in house.
When presented properly, the idea of phased projects appeals to these organizations for the following reasons:
Well-intentioned organizations will appreciate the speed and simplicity with which they can now get the work done and will be excited to follow this new process.
Traditional organizations also tend to be risk and cost-averse organizations, meaning that phased projects will appeal to them because the step-by-step approach helps to eliminate unknown variables and unnecessary spending.
Evil Organizations: If this is your organization, please reconsider the moral compass guiding your business practices. While I won't ever convince you to ditch the RFP process, I'm sure you don't like being asked to do free work either.
Are you following my logic, but still not convinced that RFPs are a bad business model for contracting creative services? A panel of experts presented on RFPs at SXSW a few years ago and their website, NoRFPs.org contains more useful information.
New Approach = Consistently Better Work
If you begin to engage expert creative firms outside of the RFP process, it will help save you time and money by avoiding the cumbersome RFP timeline and allowing the creative firm of your choice to hone in on the project details with you. Most importantly, you will see the reward in the quality of work produced for your organization.
Do you have an upcoming project and want to test the waters with this new approach? Do a little research and make a few phone calls to agencies that are doing great work for your competitors or in similar industries to find a creative team that fits your needs.
This article is also published on Medium.